About an hour into my skating, I took a cue from a friend (a mental cue anyway) and decided things would be so much better if I got new wheels and bearings. So, I skated up and down Venice looking for a skate shop. The first shop I found didn't carry any rollerblade anything. The second shop did, but the "service technician" (some chick) wasn't there & they only worked on skates on Mondays & Tuesdays...and since it was Wednesday, I was S.O.L.
The guy at the second shop told me about a skate shop on the boardwalk that serviced rollerblades. He tells me to go down to the 3rd parking lot and go toward The Walk and I will see the shop there.
"Uh, ok." I thought. So, I started skating down the alleys in search of parking lots.
One...
Wait. Was that a parking lot? ...Yeah.
Two...
Mmm. No, I don't think that was a real parking lot.
(skate. skate. skate.)
Two...
Ahh. Yeah, two.
(skate. skate. skate)
Three.
Or is this two?
Maybe the second one didn't count.
(skate. skate. skate.)
Three. Again.
So, I turned left and headed to The Walk. Another quick left...and there it was!
Boardwalk Skate Shop
Jonathan and Trevor did a bang up job on replacing my shit...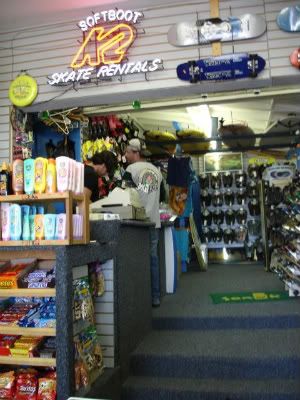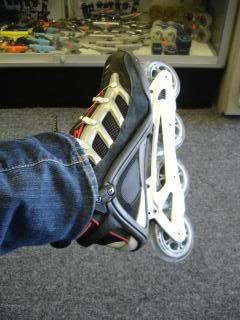 Yay!
Here they are sitting outside...but you can only see Jonathan cuz some lady is blocking Trevor with her entire body...
I skated out of there with the biggest smile on my face. 
As soon as I hit the pavement, I felt like I was at Disney On Ice.  The ride was so smoooooth! 
Ooooh weeee!