Venice Beach. You gotta love it. It's really some of the best people watching in Los Angeles! Really.  Here are  a few of my photos from today's Venice excursion.  It was a beautiful day, couldn't have asked for better weather!
my mom & our friend Carole walking to the beach. (We got a great parking spot, by the way! Difficult to do on beach days)
...
low rider bikes. pretty fuckin awesome!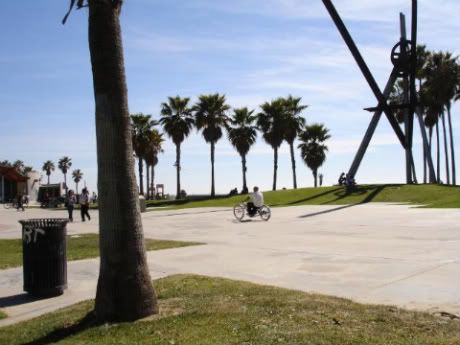 I caught this guy riding past a couple of times... then i decided to stop him and actually ask for a pic of him w/ the bike...
I feel really bad, cuz I asked his name & I forgot it. I think it was Jose...but honestly I can't remember. I'm really mad at myself cuz I wanted to give him super props in my blog. Sorry, man. I'm an ass for that! But hey, if by chance you ever come across my blogspot, give me your name again so I can give you the proper shout out!
...
This next guy was doing all sorts of trix on his bike... he was showing off for his girl (I don't know if they were a couple or just friends, but I caught him showing off for her nonetheless!)...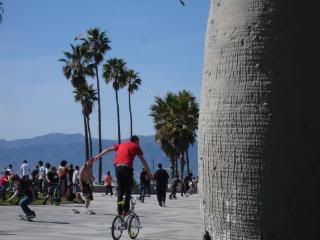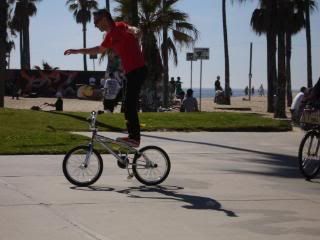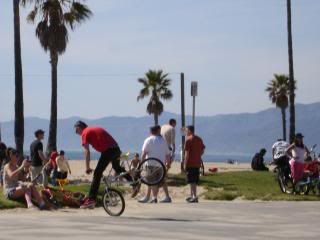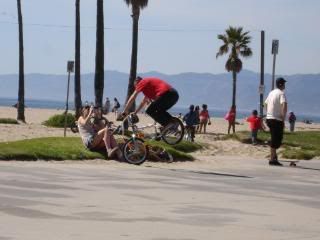 (that's her taking a pic of him. Don't worry, he had super control of his bike! Even though it looks like he's about to fall on top of her, he didn't)
...
I feel kinda bad for this guy. He's solo on a tandem bike. But, you know what, maybe it's a mack tactic. Think about it... "Hey baby, I'm looking for a riding partner & I think the seat is just your height. Hop on!" Yeah, baby! Yeeeeeaaaaah!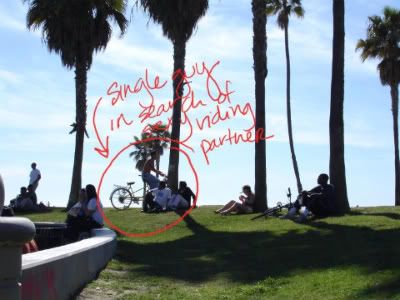 ...
watched the rollerskaters do their thing. I wish I could skate like that! But, alas! I can't! I would break my face. And,
that
does NOT sound exciting. So, I am content watching and cutting & pasting my face onto their bodies! LOL
The video is nothing exciting, really. It's just my POV. But notice a few things...
(1) The guy in the white shirt & black cargo shorts - totally goes into the splits & pulls himself up! WTF?! If
I
could do that...I'd have like 35 boyfriends right now!
(2) The guy NOT on skates walking thru the frame in a leather coat! He was dancing on the sidelines. Mind you, it was like 80 degrees or something. He was quite entertaining to watch. I can't blame him for enjoying the music, but his pants kept falling down (I posted a pic below).
(3) The guy who walks by with his bike, a backpack, and a Northface parka. Again...it's 80 degrees dude!
(4) The guy in the gray sweater & blue shorts. He eventually takes his shirt off (his body is niiiiice) At the end of the video he totally cock blocks my video! He told the guy that I was filming with my camera! (If you listen closely, you can hear him refer to my camera. I actually heard him point me out.) Ass! You lost all your cool points dude!
(5) The guy in the army pants totally busts his ass! You can't really see the entire fall cuz Mr. Cock-Blocker is standing in the way!
(6) In the background, you'll see the single tandem guy ride by! Back on the hunt I guess.
I've decided that rollerskaters
LOVE
to spin around in circles!
**sorry for the shoddy video by the way! I was high. Gotta love California!**
...
Here's the flick I was referring to above. His pants are almost to his ankles!
What's funny about this pic is that he looks like he's 2 ft. tall! I think he was actually more like 4'11"
...
Hey, Jose! Looks like someone jacked your bike!!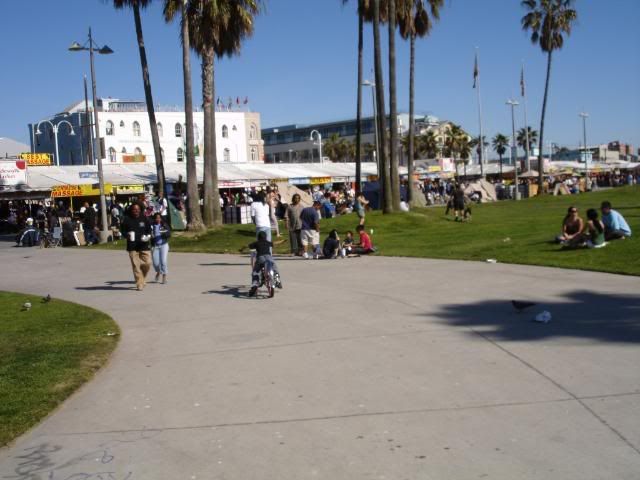 He looks pretty dangerous! Betta not f*ck with this guy!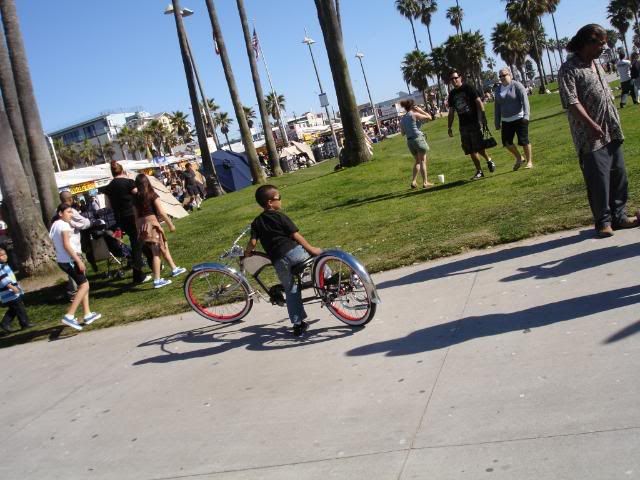 V-V-Venice Beach y'all!!