So, here we are. Walking to Basix to get some deliciousness for breakfast. Not even 100 yards from my front door and mom's already taking pix of all that inspires her...
As I got closer, I got to see what she was photographing...
OMG!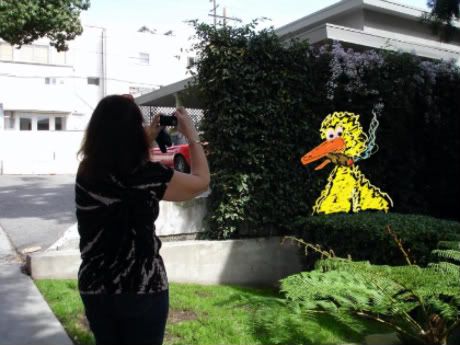 It's Big Bird smoking a blunt in a bush! How inspiring!! Good eye, Mom!
Ten more steps & POW! More inspiration!
Look! I found some inspiration too!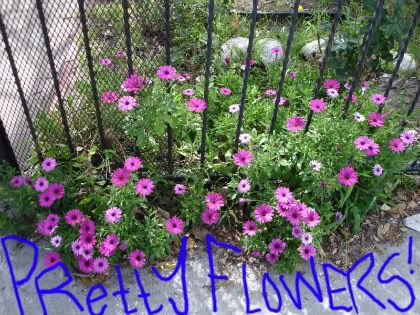 yay!
She stopped to take this one about 2 blocks away...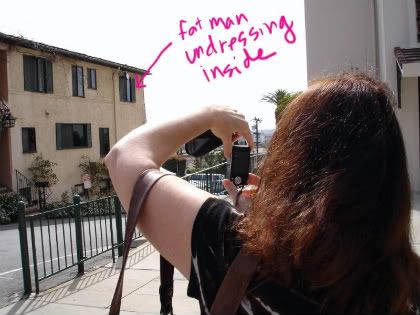 After taking this flick, she stopped to take some pix of something (I still don't know what) inside of this kids daycare play area. She wanted to get a closer look so she stepped up on the ledge of the flower bed to peer inside the big wooden front gate. There was this lady watering the hedges looking at my mom like "What the hell is this lady doing?" I'm sure she thought my mom was some kind of weirdo, so I said to her, "She's from out of town. She's a photographer!" and the lady looked at me reassured and a bit relieved. Hilarious! It was at that very moment I thought to myself "dammit, you should've taken a picture!!" That would have been classic! If I could turn back time!
That's what happens when you're new to blogging. You forget to take pictures until AFTER you think about the situation you just witnessed (or were a part of!). I'm going to get better a taking more pix. I've kind of already started. So, hopefully the blogs get more interesting as we go along!!
We finally got to Basix after the photoshoot/walk. And ordered. I was SO hungry!
Here's what we ate:
I had the Basix Scramble (or something like that)...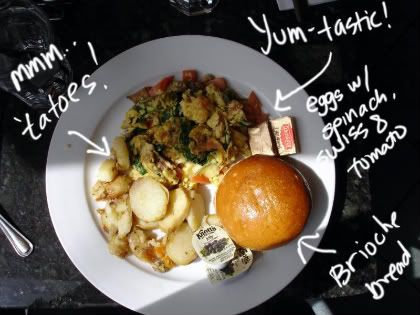 Mom had the Mexican Scramble...!Muy Delicioso!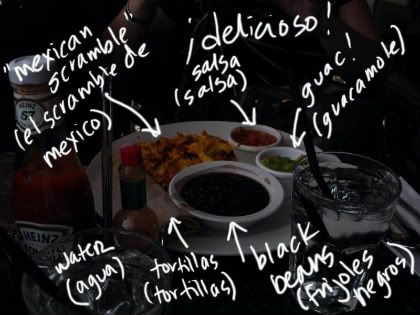 By the way, Basix has THE BEST Blood Orange Screwdrivers/Mimosas/Martinis EVER! (
Basix Cafe
8333 Santa Monica Blvd., West Hollywood, CA 90069) One of my favorite spots in WeHo!
The food was great! As always. I'm never disappointed!