The crowd wasn't as heavy Sunday night. The love was still felt all the same. But, tonight
Hit+Run
was doin' their screen print thang! Love those guys!!
(Shout out to P7!)
::::::::
LA vs WAR - PART 2: Sunday Night
::::::::
I think
LA vs War
ran out of the shirts they were selling, so I decided to have the shirt I was wearing screened as a momento from the show. Watch what happens...
Here's me talkin' to P about what screens I want for my shirt...
Here, take my shirt...
I wonder the exact thought P had at this moment...! LOL
All photography by Malcolm...
Peace, Love & Understanding
on the front &
LA vs WAR
on the back
After all is said & done... (and yes, I did take off my shirt in front the middle of that crowd! No Biggie!)
(Nice arial shot Malc!)
F*ck Yeah!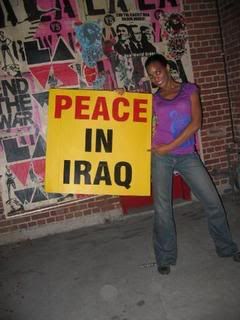 awesome!